STATE-OF-THE-ART RECOVERY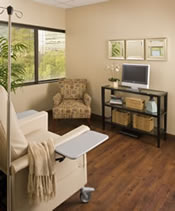 Recovering your life from the devastating consequences of addiction requires a fully integrated treatment program. Our use of the latest scientific breakthrough therapies offers the best chance for you to break the painful cycle of addiction. Our unique, individualized therapy, helps you regain your sense of self-worth and dignity, and gives you ongoing life skills which may have been lost or become distorted through your substance use/addiction.
WHAT TO EXPECT FROM TREATMENT
The thought of seeking treatment for an addiction may be frightening to some people. At the Urschel Recovery Science Institute our compassionate and caring staff will do everything possible to make your experience comfortable.
Initially, you will be seen by a highly trained and experienced addiction healthcare professional. Based on your individual assessment, a personalized treatment plan will be created specifically for you and your situation.
During the initial phase of your treatment, you may be assigned a primary therapist. Our individual therapy sessions are designed to be very discreet. You will work in an attractive, private, one-on-one setting with your therapist, who will help you develop the coping skills needed to escape the vicious cycle of substance dependence. Depending upon your individual needs, you may be prescribed a program of safe, effective anti-addiction medications as well as nutritional treatment in conjunction with your talking therapy.
At URSI, we focus on providing customized individual therapy. This therapy is personalized for you and your specific lifestyle needs. This individual focus allows you to become aware of how thoughts, feelings, and behavior may trigger your addictive behavior, and how you can use this information to decrease the chances for relapse in the future. Patients also find that this highly customized individual experience helps in their progress toward increased openness in communication, mutual support, and more healthy interpersonal relationships.
Combining state-of-the-art science with advanced nutritional treatments and talking therapy is key to our relapse prevention strategies. Following this innovative program will give you something you may have thought nearly impossible: hope that you can overcome this devastating chronic illness. With the proper medications and therapy, you can once again live more successfully — both at work and at home — and rebuild your life.
| | |
| --- | --- |
| | Hope is within reach. Click here or call our staff at 214-905-5090, and take the first step to regaining control of your life. |