HAROLD C. URSCHEL III, M.D., MMA

Founder and CEO, the Urschel Recovery Science Institute Chief of Medical Strategy, EnterHealth Global LLC.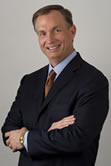 Dr. Urschel is founder / CEO of the Urschel Recovery Science Institute - Dallas/Ft Worth's only outpatient addiction treatment center of excellence. He is also Chief Medical Strategist and Co-founder of EnterHealth, an addiction disease management company based in Dallas (www.EnterHealth.com). The primary goal of both Dr. Urschel's Recovery Science Institute and EnterHealth is to combine the best behavioral treatment methods with the latest scientifically proven medications to maximize his patients' chances of a successful recovery from the life threatening, chronic medical disease of addiction.
He graduated from Princeton University for his undergraduate training and from U.T. Southwestern Medical School and the University of Pennsylvania for his graduate and medical training. Dr. Urschel is currently certified in both addiction and general psychiatry by the American Board of Psychiatry and Neurology. He additionally earned a Masters in Management Administration from the Stanford University Graduate School of Business.
Since 1998, Dr. Urschel has been implementing the Recovery Science program at two area hospitals and one world class addiction treatment residential facility, Enterhealth's Life Recovery Center in North Texas. Because of Dr. Urschel's success in bringing the latest scientific breakthroughs in addiction treatment research into his clinical treatment programs, his Recovery Science addiction treatment program has been utilized as the clinical addiction treatment program for the UT Southwestern Medical School, Department of Psychiatry.

Web Address: www.recovery-science.com
Email: contact@recovery-science.com